We are an oasis for book lovers of all ages, passionately defending the written page for the future generation and all the joy a good book brings.
Marsden Books has an eclectic selection of New Zealand, non-fiction and fiction titles and a large selection of children's books. We are a family business and are proud to have been a locally owned Karori business for more than 40 years.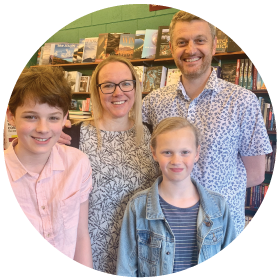 Our team, Briony, Heather, Philippa, Carol, Beatrice, Charlotte and Emily work hard to ensure all our customers get a very personal service. We take special orders for you and have a particular interest in encouraging young readers of all ages.
We regularly host author events during the year and you can find out about those on the Events page. You can find out where we are and what we are up to on Facebook.
Come and see us for all the benefits a visit to a real bookshop brings.
Briony & David Hogg – Owners